High School Math students....please check your StudentVUE for a message from me regarding communication for your classes.

We are happy to report that Mental Health Counseling services are still available! In order to comply with social distancing, Luke will be available for scheduled appointments by phone or video conferencing. To set up appointments for students please call Luke at 541-910-8841. If you reach voice mail, please include the student's name, date of birth and the best phone number to reach student or family directly. Luke will return your call as soon as he is able.

I will be regularly posting educational opportunities on my Google Classroom pages. Take advantage of the opportunity to continue to grow. Check Google Classroom and your school email frequently and stay engaged.

History 201 students- We will continue our studies online to earn credits through Blue Mountain Community College. I will be regularly posting assignments and information on our Google Classroom page. Check your school email and Google Classroom frequently.



Students and Parents: These are challenging times and I wanted to give a brief reassurance that our teachers and staff are working to establish and deliver supplemental education resources for you. Beginning the week of March 30, expect weekly (or more) direct communication with your teacher or adviser. We want to ensure you don't lose that Cove academic achievement edge during the closure. All students will be provided with supplemental learning material and resources. More details will be made available next week and through your teacher/adviser. Despite the closure, Cove remains laser-focused on your education.


6th graders! Keep your brain in shape! Login to IXL, GoMath or Prodigy to give your noggin some exercise. Read an interesting article on Tween Tribune and post it to our Google Classroom for others to read. Email or text me directly if you need help logging in. I'm here for you. 👍

Cove School Lunch program plan for the March 2020 school closure. Sack or similar lunch prepared by Cove food service program. Breakfast and/or lunch meals will be provided to students who desire it. Meals will be provided at approximately the same scheduled time as school days. Breakfast: 7:30-8:15am Lunch: 11:30-12:15pm Meals will be a "grab and go" so come on in to the cafeteria and pick up your meal.

There will be packets with information about the local scholarships available Monday (16th) either with Mrs. Murchison or on the bench by the office. Please feel free to contact me if you have any questions.

Emergency Board Meeting Tonight Friday, March 13th @ 5:30pm in the High School Math Room.

For the safety of our students, their parents, their extended families, and our community, the Cove School District will suspend all organized sports practices until further notice.

STEAM NIGHT March 18th has been Postponed until a further date.

Governor Kate Brown advises the following steps for managing the spread of COVID-19 in Oregon. The guidelines encompass large gatherings, workplace provisions, long-term and assisted living and several of them impact our schools. In addition to previous guidance to keep schools open, all non-essential school-associated gatherings and group activities should be canceled — such as group parent meetings, field trips, and competitions.

GOLF--The Cove High School golf team will have an organizational meeting tomorrow after school in Mrs. McGilvray's room. A lesson with Stewart is scheduled for Friday at noon at the La Grande Country Club. Charge is $10 per athlete. If you are interested in playing golf, please attend this important meeting.

Congratulations to all fourth graders on a job well done in our Seuss Sweet 16 reading competition. But in the end there can only be one reading champion and that Seuss reading champion is Mila Dittmann. Way to go Mila!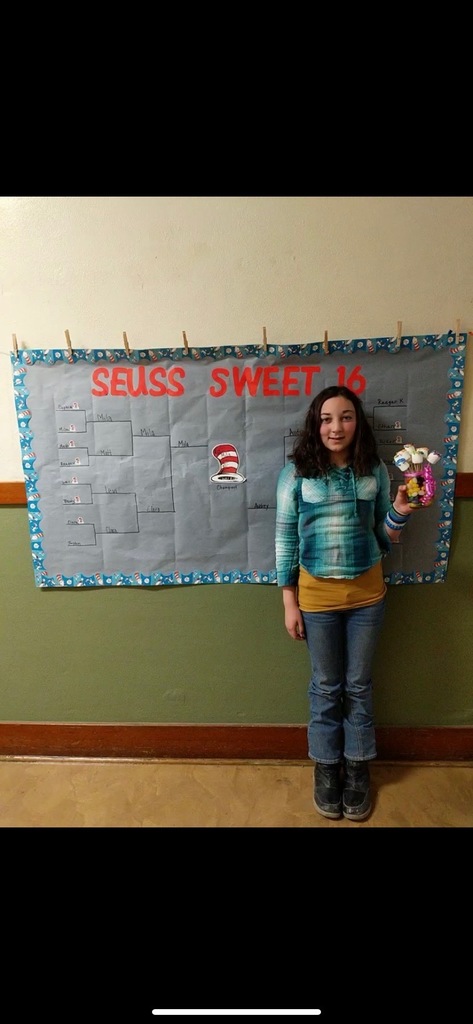 If you are in Middle School and interested in track come to the informational meeting on Thursday after school in the High School Gym. Practice will begin on Monday, March 16th after school. Meet in the High School gym. See you there!

Reminder: There is a "Fix-it Cafe" Tuesday night from 4:30 to 7:30 where there will be volunteers available to help you fix lamps, extension cords, bike tires, sewing, simple tech issues, etc. It will be in the High School Shop.

REMEMBER.... College, Career & Military Fair at LaGrande High School 6:00-8:00pm Tuesday, 10th. Door Prizes, Open to Public!!