News
With recently award grant funding, Cove school is gearing up a summer enrichment program for Cove students currently completing kindergarten through 5th grade. While most parents are aware of the planned after school program scheduled to start next fall, this grant allows the school to essentially start the after-school program early as a summer enrichment program. Beginning June 14th, the district will serve up to 40 students following the first of seven thematic units (the remaining 6 will be delivered as the after-school program next year). Kids may participate in any or all of the three 10-day units under the first theme, Kick Off the Fun!, with units Young Olympians (June 14-29), Fall Into Fun (June 30-July 15) and Leopards Give Back (July 19 through the program conclusion on August 3). Each day, students will participate in organized physical activities, engage in free reading or artistic activities of their choosing, and complete a Science, Technology, Engineering, Artistic, and/or Math (STEAM) oriented task aligned with the mission and goals of Cove Charter School. Titles of some of the daily activities lend insight into the types of tasks such as: Storage Wars, Cone Creatures, Maple Seed Madness, and Pumpkin Chuckin'. Don't worry, we do a small-scale pumpkin chuckin' contest where cotton balls substitute for the pumpkin as students test their creations! The program will run from 8:30 to 11:30, Monday through Thursday. While a light snack will be available, there is no transportation nor food service support for this summer program. Parents must bring their kids and pick them up daily. With instructional support from other adults, the lead staff member for each age group are Lacey Baird for grades k-2 and Tricia Tucker for grades 3-5. Each age group will be limited to 20 participants and admittance to the first unit will be based upon order of sign-up. Units 2 and 3 will be prioritized to admit those unable to get into a previous session. As...
If you missed one of the the best May Day programs ever, now you can watch it in its entirety in two parts: Part 1 Part 2Congratulations to the Mr. McBride, teachers, staff, sponsors, and students for making this event happen!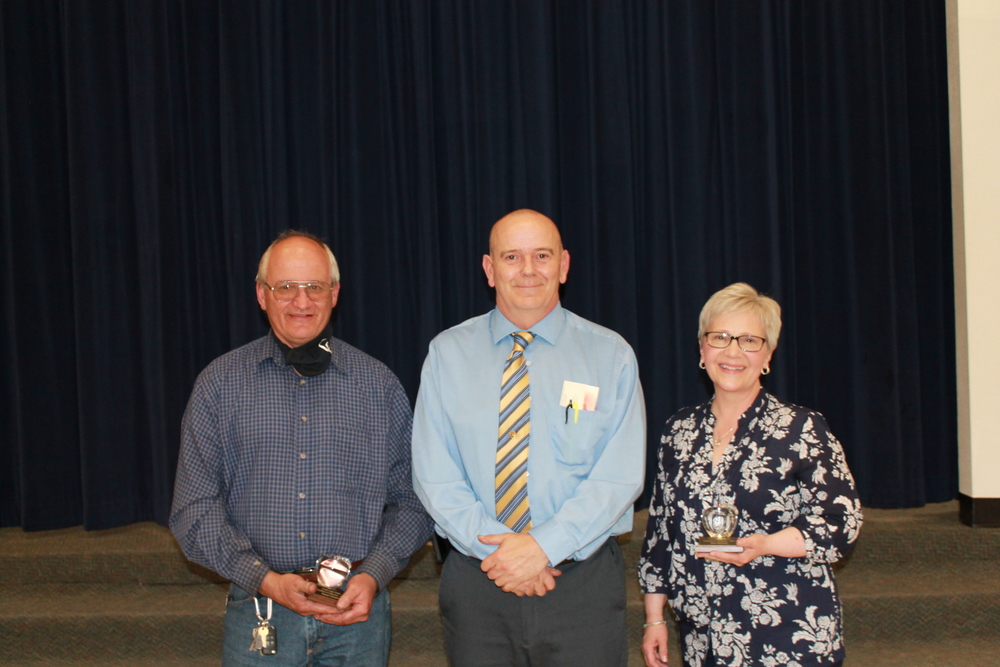 The InterMountain Education Service District (IMESD) and Cove School District are proud to announce the winners of the 2021 Crystal Apple "Excellence in Education" Awards. A total of 14 individuals were honored last night, Monday, May 3, at an awards ceremony at La Grande Middle School. It was the 9th Annual Crystal Apple Awards for Union County. Each year, the IMESD partners with its school districts to recognize outstanding administrators, teachers, educational assistants and office and building staff for their dedication and commitment to students and for their willingness to go above and beyond their regular duties. Nominations are submitted over a two-month period by administrators, coworkers, parents, students and community members. Winners are selected from these nominations by school district administration. "In the past year, the COVID-19 pandemic has been one of the greatest challenges to K-12 education, but many educators have stepped up and worked even harder to serve eastern Oregon's students. Due to these challenges, celebrating this year's Crystal Apple Award winners has been even more important and more special," said Michele Madril, IMESD director of communication. Cove School District Winners: Kim McBride (Secretary) Russel Olmsted (Shop Teacher) Congratulations Mrs. McBride and Mr. "Teach" Olmsted! We appreciate all that you contribute to Cove School.
SEE ALL NEWS
LIVE FEED
Dustin Clark
4 days ago
Correction: Online registration for the 2021-2022 will be available for 9-12 Cove HS students registering for classes within the next few weeks. We will be sending out additional information and links when this new system is ready.
-Dustin Clark, Cove High School

Earl Pettit
12 days ago
UCYSA Summer Soccer Registration is open for kids born from 2006 to 2016. Click here for information: https://5il.co/tjus


Leadership Class
14 days ago
TIME CHANGE--Boys basketball in Joseph tomorrow night at 6:00 pm instead of 5:00 pm due to officials. 🏀

Candy McGilvray -- AD
17 days ago
MS COACHING POSITION --The Cove School District is currently accepting applications for the position of middle school volleyball coach. If you are interested in this position, please contact Candy McGilvray at candy.mcgilvray@covesd.org. Applications can be found on the following website: https://www.cove.k12.or.us/o/cove-school-district/browse/55828 We will be accepting applications until July 1st. Position will remain open until filled.
SEE ALL POSTS