News
Cove 5th Grade continues the tradition of singing the National Anthem each Thursday in lieu of the pledge of allegiance which is recited all other days.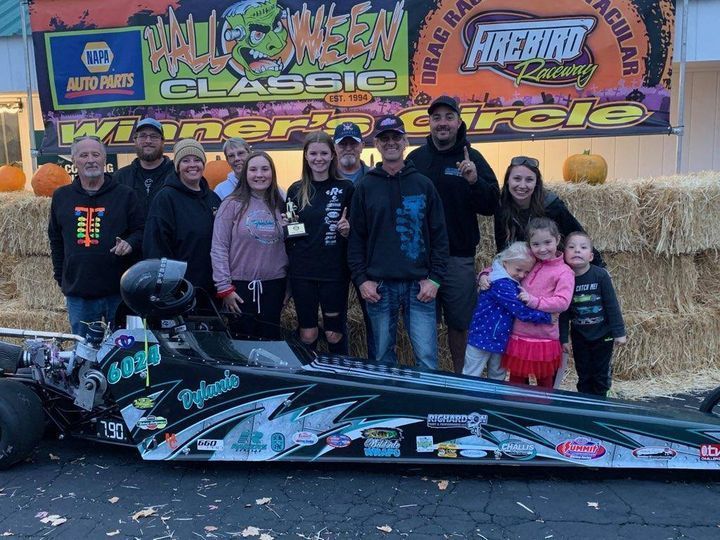 Cove has earned a reputation for producing top female sprinters over the past decade but Morgan and Sophie are far from the speed set by Cove High School Freshman Dylanie Petersohn last weekend at Firebird Raceway. Dylanie's dragster nearly touched 90 mph on the short 220 yard (1/8 mile) track as she went on to collect the 2020 Halloween Classic Championship in the Lightning Class.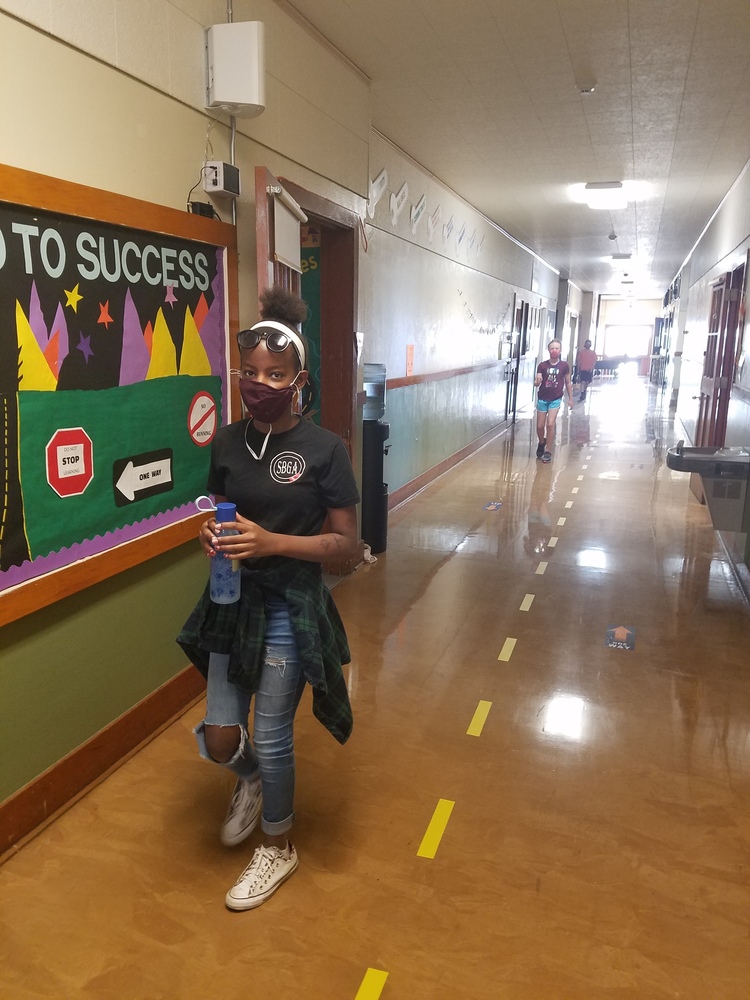 Photo: Reagan on the "Road to Success" AKA the elementary school hallway. The elementary school has implemented "driving rules" to move students throughout the school. Students are testing and earning their licenses this week!By almost all accounts, the first week back to school was a smashing success! Kids are once again learning and interacting with their peers and teachers are thrilled to be back to pursuing their passion. Students at all grade levels have adjusted to the perceived "weirdness" of the rules and adjustments to their daily school routines quite well. Teachers and staff are overly-assertive in tracking the whereabouts and contacts between students and others throughout the day as we remain committed to preparedness for an event we are taking every precaution to prevent. Thus far, there has been no indication of COVID within the school community but the school remains ready to address such an event in accordance with the best available actions and resources. For doing your part and helping to mitigate risk for our students and staff, Cove School District thanks you. Without your support, on-site school would not be possible. There is, however, one area where we continue to struggle and seems to overshadow everything we have done to provide a safer environment for our students. While making a commitment to respect individual rights, empower parents, provide a quality educational model, and support our constitution; Cove School has also been committed to providing equitable educational opportunity for all students – even those few whose parents or the students themselves refuse to wear a face covering. Clearly, face coverings are the politicized hot-button issue way beyond our school boundaries despite being described on only one-page of an 87-page rule book for reopening issued by the state. On day one, this was not a major issue as there were a handful of students spread across the entire school who were objecting to face coverings. ...
SEE ALL NEWS
LIVE FEED

Karen Moore
11 days ago
We have completed six full weeks of in-person school! This week we successfully reintroduced a short after-school recess for grades K-6 (masks are required). A new change to be aware of: While parents/guardians are still not allowed in the school building, they can leave their vehicles when picking up students (please wear your masks). Our goal is to return to our pre-COVID routines as soon, yet as safely, as possible .

Lisa Murchison
12 days ago
Josten's Rep will visit Cove High School on Tuesday, Oct 13 at 10:00 in the HS Math Room. He will be giving out information on caps & gowns, graduation invitations, class rings & much more. ALL seniors should attend. If unable to attend, let Mrs Murchison know so she can pick up information for you.
Candy McGilvray -- AD
13 days ago
VOLLEYBALL--The Cove High School volleyball team will be in action tomorrow night against the Imbler Panthers. The Leopards are undefeated after last week's opening matches. Gate will open at 5:00 and will close at 5:30. Please remember that only those with tickets can attend.
Cove Booster Club
13 days ago
Please join Cove Booster Club for our monthly meeting this Wednesday, October 7, 2020. We will meet in the school cafeteria at 7:00 pm. We are excited to return to our usual schedule of meeting the first Wednesday of each month. Old and new members are welcome and encouraged to attend. See you there!

Kelsey Stitzel
13 days ago
Picture Re-takes that were scheduled for Thursday, October 8th have been cancelled. Re-takes will be rescheduled as soon as possible. Sorry for any inconvenience this may have caused. If you have any questions about your current pictures please call Life Touch Photography 541 276-2889. Have a great rest of your week.
SEE ALL POSTS