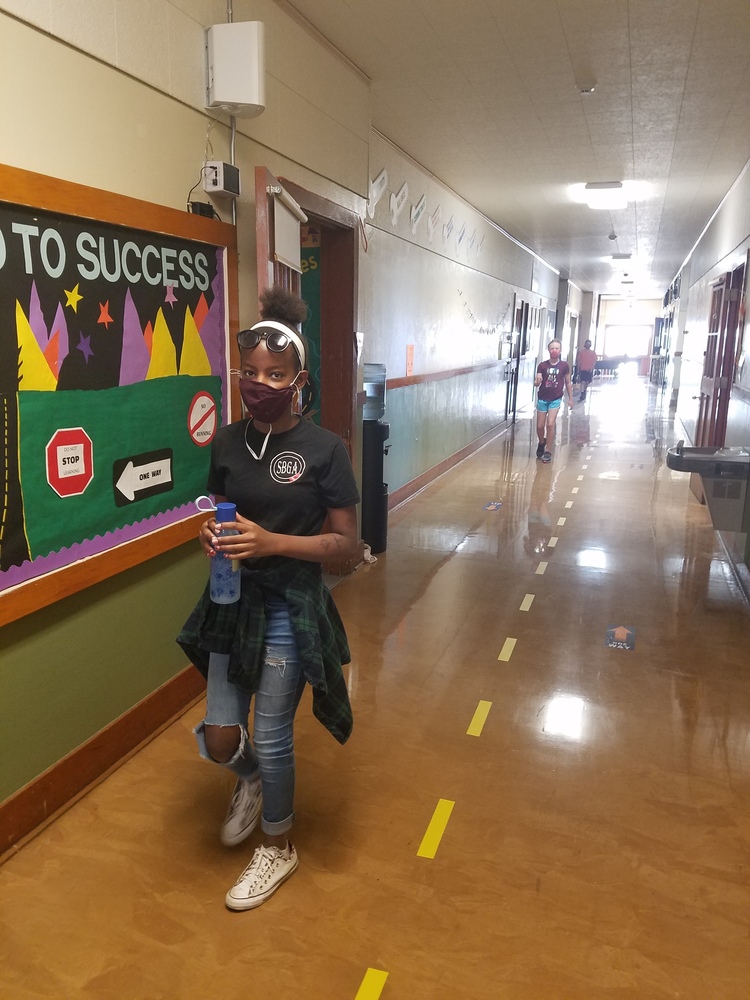 First Week Back
Earl Pettit
Thursday, September 03, 2020
Photo: Reagan on the "Road to Success" AKA the elementary school hallway. The elementary school has implemented "driving rules" to move students throughout the school. Students are testing and earning their licenses this week!
By almost all accounts, the first week back to school was a smashing success! Kids are once again learning and interacting with their peers and teachers are thrilled to be back to pursuing their passion. Students at all grade levels have adjusted to the perceived "weirdness" of the rules and adjustments to their daily school routines quite well. Teachers and staff are overly-assertive in tracking the whereabouts and contacts between students and others throughout the day as we remain committed to preparedness for an event we are taking every precaution to prevent. Thus far, there has been no indication of COVID within the school community but the school remains ready to address such an event in accordance with the best available actions and resources. For doing your part and helping to mitigate risk for our students and staff, Cove School District thanks you. Without your support, on-site school would not be possible.
There is, however, one area where we continue to struggle and seems to overshadow everything we have done to provide a safer environment for our students. While making a commitment to respect individual rights, empower parents, provide a quality educational model, and support our constitution; Cove School has also been committed to providing equitable educational opportunity for all students – even those few whose parents or the students themselves refuse to wear a face covering. Clearly, face coverings are the politicized hot-button issue way beyond our school boundaries despite being described on only one-page of an 87-page rule book for reopening issued by the state. On day one, this was not a major issue as there were a handful of students spread across the entire school who were objecting to face coverings. Simply stated, one student in a classroom refusing to wear a face covering has negligible impact upon the overall fidelity of our reentry plan and does not significantly increase risk to our other students and staff.
However, defiance to the request to follow our re-entry plan can become almost pandemic-like in itself if we don't remain attentive. No matter a person's beliefs about face coverings and perhaps due to the politicization of the issue, they have become the key element for schools reopening across the country. Simply stated, if Cove School cannot successfully implement and maintain a reopening plan to mitigate risk including compliance with face covering requirements, on-site school is in jeopardy. The actions of a few to exercise their right not to wear a mask may be the ultimate cause of a failure to keep the school open and I hope it never comes to that. I hope that the exercise of constitutional individual rights does not result in the loss of greater rights for the rest of the students. In this case, I see that choice as just plain selfish.